TRANSLATION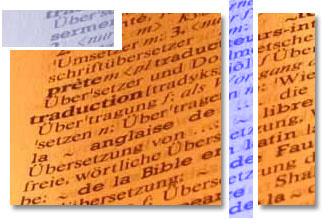 You have developed some project, you have written an article or book, or maybe you have invented a new product and thereby would like to conquer new markets abroad. In order for your creation to have a chance, it must be translated. Due to the fact that your job requires competence, you have all the right to be worry about the quality of translation, since in any case there should be no misunderstanding. Translator will possibly get in touch with you or an expert authorized by you in order to find out some nuances in regards to the text being translated or to get detailed information, and they undertake not to disclose this information.
After most of the necessary consultations, the translator who already has expertise in this field is now able to accurately translate the text, i.e. in accordance with the necessary meaning and style. Our areas of expertise: economy, automotive technology, aviation, real estate, gastronomy, literature, art, history, journalism, linguistics, sports and safety.
Despite all the progress of computer technology, when it comes to professional translations human translation is still irreplaceable. Human translator understands irony and hints, they know adequate language terms and set expressions, they know how to appropriately respond in every situation and are therefore able to translate correctly and clearly. However, the word to translate explains its basic function. To translate means to transport from one coast to the other. For this a German-French translator needs to know both sides of the Rhine very well. Both cultures are familiar to them. They know the way both sides behave, what way of living they have, how they work and all that…
TRANSLATION CONDITIONS
| | | | | |
| --- | --- | --- | --- | --- |
| | German-French (per line*) | French- German (per line*) | Russian-German (per line*) | Russian-French (per line*) |
| General | 0,90 € | 1,00 € | 1,20 € | 1,10 € |
| Professional language | 1,00 € | 1,15 € | 1,40 € | 1,30 € |
| Technical language | 1,20 € | 1,35 € | 1,60 € | 1,50 € |
| Private correspondence | 0,70 € | 0,95 € | 1,30 € | 1,20 € |
* One line includes 55 characters, including spaces.
Urgent translations: + 0,30 Euro per line (also for orders which have to be done over the weekend).
Upon request, we will gladly provide you with a quote. Please feel free to contact us.